Top Interior Design Courses After Graduation in 2023
---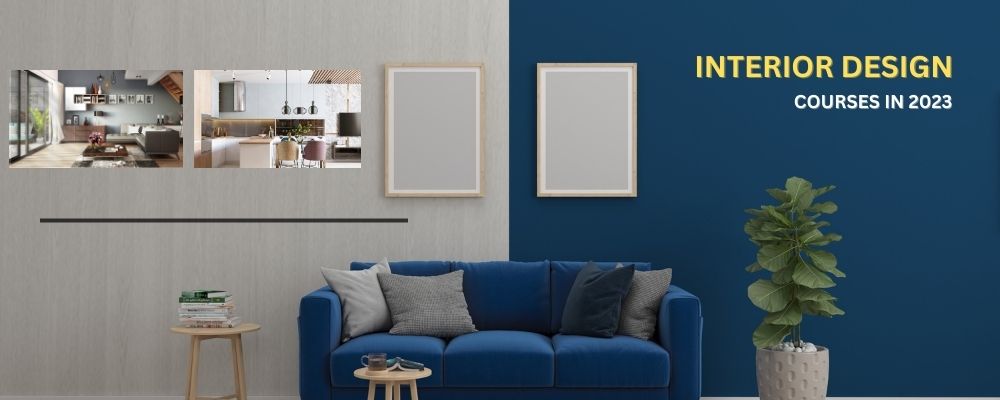 ---
Interior design is an exciting profession that combines the art and science of creating beautiful and functional spaces within buildings. Learning interior design courses can be a fulfilling and satisfying experience whether you want to create residential, commercial, or hospitality spaces. With the right training, you can learn how to design visually beautiful and functional interiors that fit your business demands and tastes.  Interior design courses teach the principles and skills of interior design in an organized manner. Color theory, space planning, furniture selection, lighting design, and materials and finishes are among the topics covered in these courses.
There are various interior design courses after graduation are available that cater to different skill levels and interests, whether you're a beginner trying to start a career in interior design or an experienced designer wishing to improve your talents. You can build a successful career in interior design and create rooms that please and inspire your clients with the correct training and experience. In this blog, we will be discussing the top interior design courses after graduation in 2023. Let's get started.
What do you need to know about Interior Design Courses?
Interior design courses often give students a complete understanding of the concepts and practices of interior design, as well as the technical skills required to construct functional, aesthetically beautiful interior environments. Color theory, space planning, lighting design, furniture and material choices, sustainable design methods, and the use of computer-aided design software are some of the key topics studied in interior design courses. Students also may study the history of interior design and how to collaborate with clients to develop customized design plans.
When considering an interior design course, it's important to look into the many course options, such as online or in-person, full-time or part-time, and program length. It's also vital to assess the instructors' qualifications and expertise, as well as any accreditation or recognition the program has earned.
Moreover, a successful interior design school should equip students with the knowledge and abilities they need to pursue a career in the area, whether as a freelance designer, a member of a design firm, or an in-house designer for a company or organization.
Why should I Enroll in an Interior Design Course?
Interior design courses provide you the satisfaction of building a house home for its people in a world encouraged to study STEM courses and technical degrees like Engineering and Architecture, which regardless of fine pursuits if they make you happy. Interior designers, in reality, enhance the beauty and naturalness of a space. Hence, if that sounds appealing, interior design jobs are the perfect choice for you.

Overall, an interior design education allows you to express your creative side while still keeping you up to date on technical methods. Continue reading to find the best interior design courses.
Top Interior Design Courses
Considering prior education is preferable for interior design courses, it is essential that you thoroughly research all of your choices. Many interior design jobs require a combination of professional experience, academic knowledge, and the passage of a standardized exam.
After graduation, furthering your education in interior design can help you polish your talents and expand your knowledge of the business. Here are some of the best interior design courses after graduation in 2023:
Master of Interior Architecture and Design: This graduate program focuses on improving your design skills by exploring concepts, design theories, and emerging technology. You'll also learn how to build design solutions that are appropriate for clients, consumers, and the environment.
Interior Design Certificate: A certificate in interior design is an excellent alternative for people looking to augment their current degree or transition into a new job in interior design. Typical subjects covered in this degree include design concepts, color theory, and space planning.
AutoCAD for Interior Designers: Many interior designers use AutoCAD as a software application to generate 2D and 3D designs. This course will show you how to use AutoCAD for interior design projects especially. Students and Working professionals believe that CADD Centre is the best AutoCAD training Center for providing the best in-demand job-oriented courses.

Certificate in Sustainable Design: Sustainability is becoming an increasingly essential issue in interior design. Students in this certificate program learn how to build ecologically friendly, energy-efficient, and socially responsible spaces.
Interior Design Business Practices: This course will teach you how to manage client relationships, project budgets, and timetables in the business of interior design. It also offers advice on how to advertise and brand your interior design services.
Lighting Design: Lighting is an important aspect of interior design that may have a significant impact on the look and feel of a place. This course teaches students how to develop efficient lighting solutions that improve a space's utility and beauty.
Design Thinking: Design Thinking is a problem-solving strategy that stresses empathy, cooperation, and experimentation. This course teaches students how to apply design thinking ideas to interior design projects, allowing them to develop novel solutions that fulfill the needs of users and stakeholders.
Interior Design Textiles and Materials: Textiles and materials are an important aspect of interior design. This course discusses the selection, use, and care of various fabrics and materials, as well as their environmental impact.
History of Interior Design: Knowing the history of interior design is essential for designing ideas that are both functional and visually beautiful. This course examines the evolution of interior design styles and their impact on contemporary design.
To Conclude
I hope you've decided on an interior design course after graduation to pursue. In general, acquiring more interior design education can help you stand out in a competitive employment market and progress your career. There are numerous options available to help you polish your talents and deepen your understanding of the profession, whether you take a graduate degree, certificate program, or individual classes.